June 30, 2021 - Interview with S. Chiridis in Paphos
"Robotics: surgeon experience more important than robot"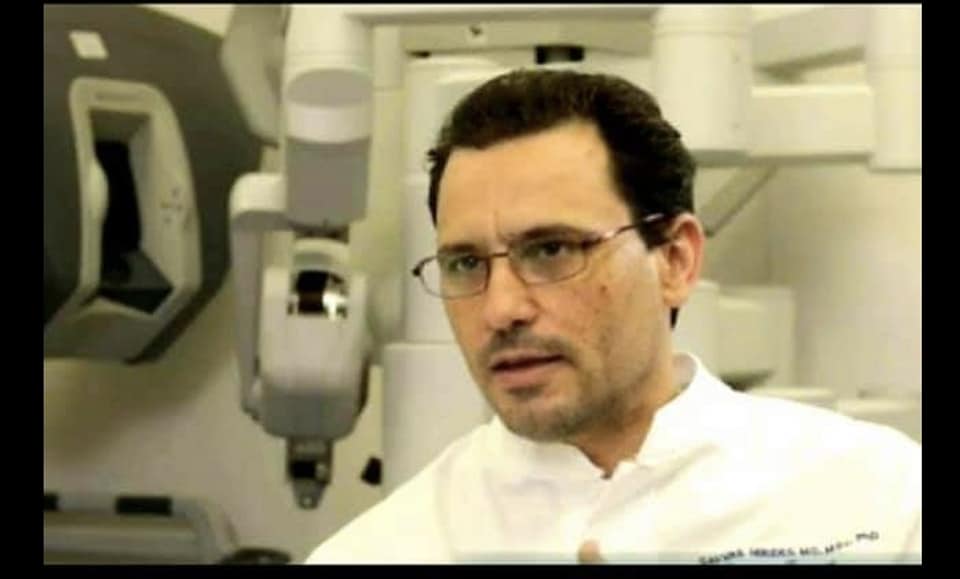 The whole article here
March 24, 2021, Athens Medical Center, Psychiatric Clinic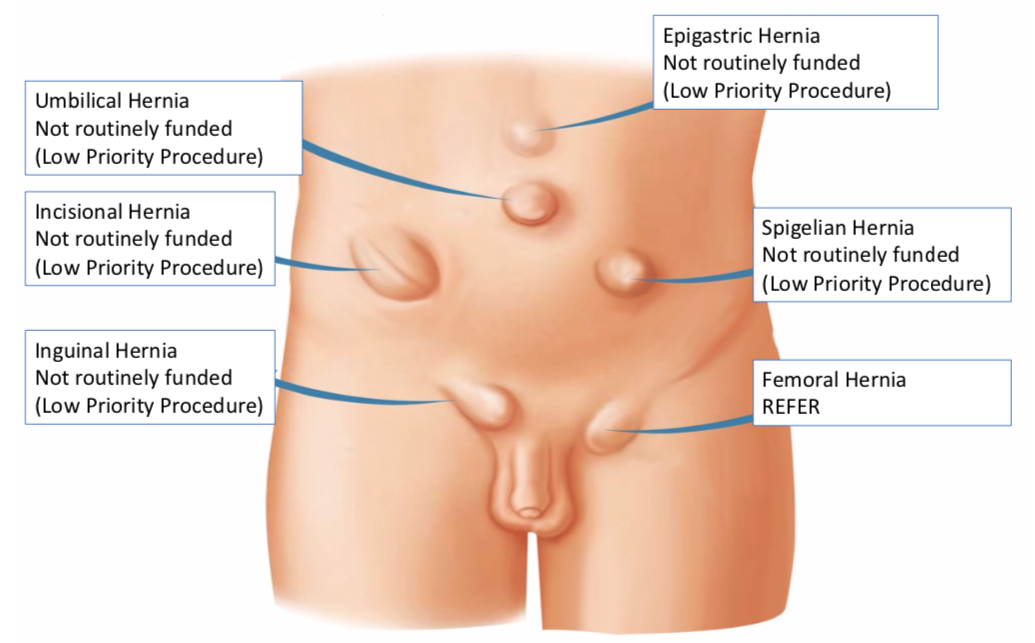 SUCCESSFUL EMERGENCY PROCEDURE FOR STRANGULATED HERNIA.
Our day started yesterday at the Psychiko Medical Center with the restoration of a large inguinal hernia! Our patient, 74 years old, was admitted the night before with a painful swelling in the right inguinal region, when his hernia, which had grown for years, suddenly could not recover. He underwent laparoscopic surgery with a complete extraperitoneal technique (TEP) and mesh placement, and is being discharged today without the slightest discomfort.
The inguinal hernia will occupy 1 in 4 men during his lifetime, while this percentage increases to 50% for ages over 70. It is a projection of the intra-abdominal viscera through a gap (hole) in the abdominal wall. Hernias always involve part of the peritoneum (the sac that surrounds all the organs of the abdomen), but may include the viscera, usually the small or large part of the intestine, and the appendix (intra-abdominal fat). Increased frequency groups are patients with a history of obesity, constipation, chronic cough or weight lifting ...
Hernia repair can be done with conventional laparoscopy or with a robotic technique, which is the most advanced form of laparoscopic surgery that started in Greece at our hospital, at the Athens Medical Center 14 years ago.
--------------------------------
March 3, 2021, Online Lecture
HONORARY INVITATION FROM THE HELLENIC AND CYPRUS SURGICAL SOCIETY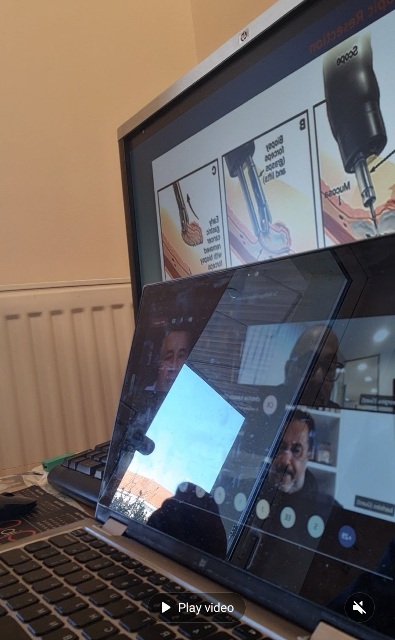 Dr. Chiridis guest speaker at the 5th pan-Hellenic and pan-Cypriot online course in the framework of the postgraduate program of General Surgery in Cyprus and Greece. With interlocutors the distinguished colleagues Dr. Michalis Papoulias and Dr. Dionysios Koufoudakis, Dr. Cheiridis developed the topic: "Gastrectomy - technique (total vs partial, D2 vs D1)". Dr. Chiridis focused on the descriptive anatomy and the anatomical variations found during the classical open and laparoscopic technique of various types of gastrectomy . the detailed lecture and its rich photographic content.
--------------------------------
February 19, 2021, Athens Medical Center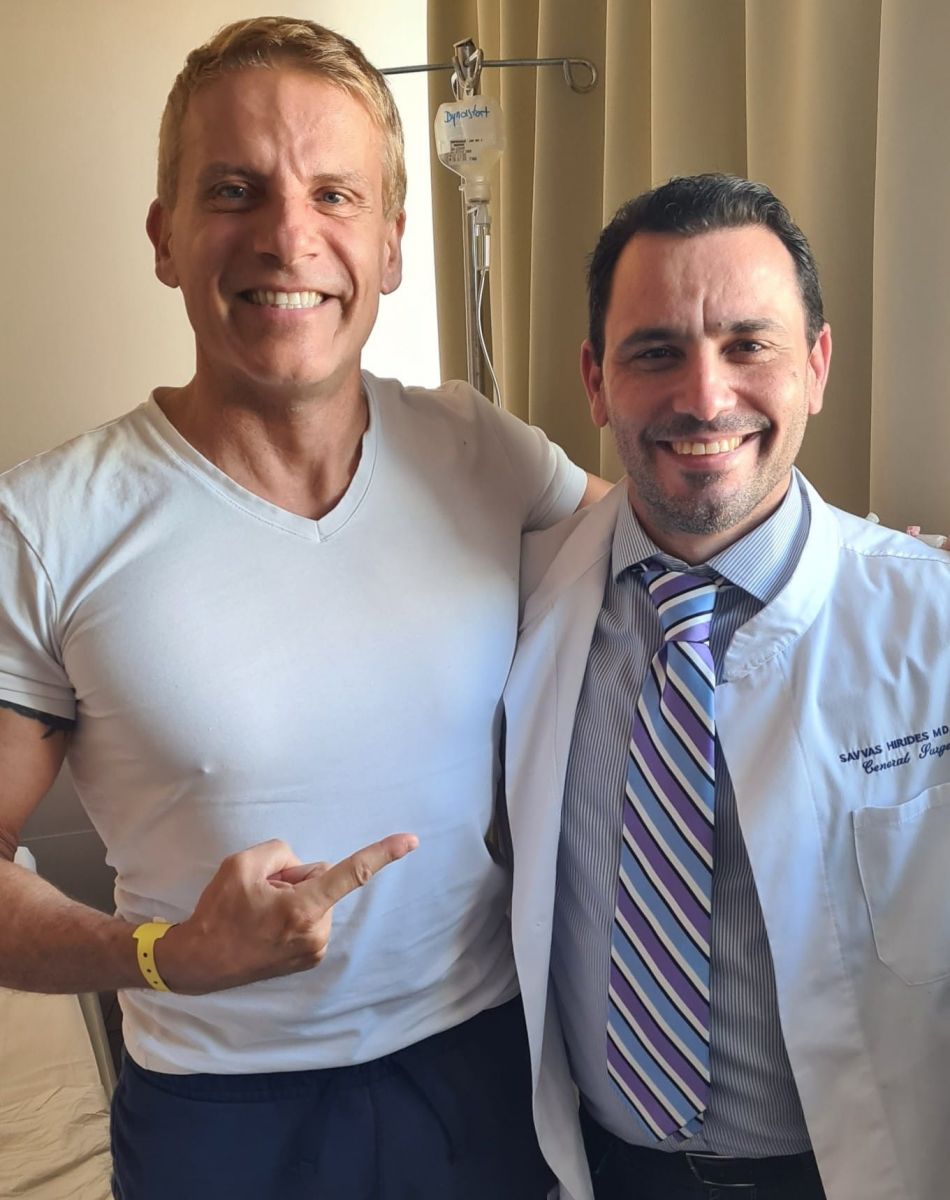 WINNERS CHOOSE ROBOTIC SURGERY!
With our well-known Andreas, the "kind-hearted giant" from beautiful Chania ( MEGACHANNEL 2002 ), who chose Single-Site Robotics with our doctor, an operation performed exclusively in our center, throughout Southeastern Europe .
--------------------------------
February 15, 2021, Athens Medical Center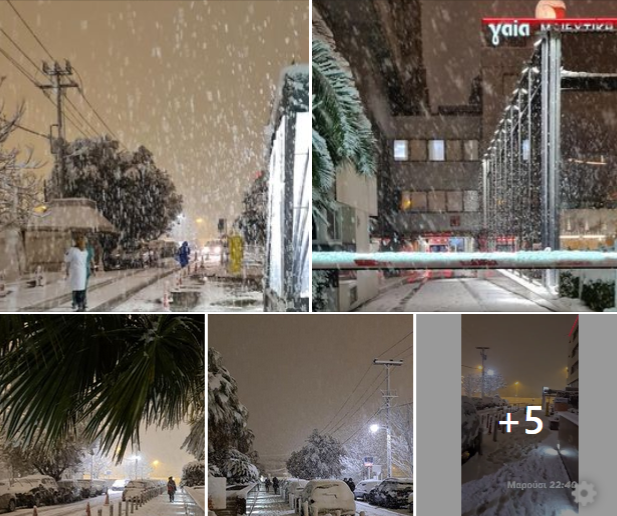 In the magical snowy ... Maroussi after surgery!
After a difficult Robotic Elongated Gastrectomy to our good friend and patient from Rhodes, another pleasant surprise awaited us as we left the hospital.
--------------------------------
January 24, 2021, Athens Medical Center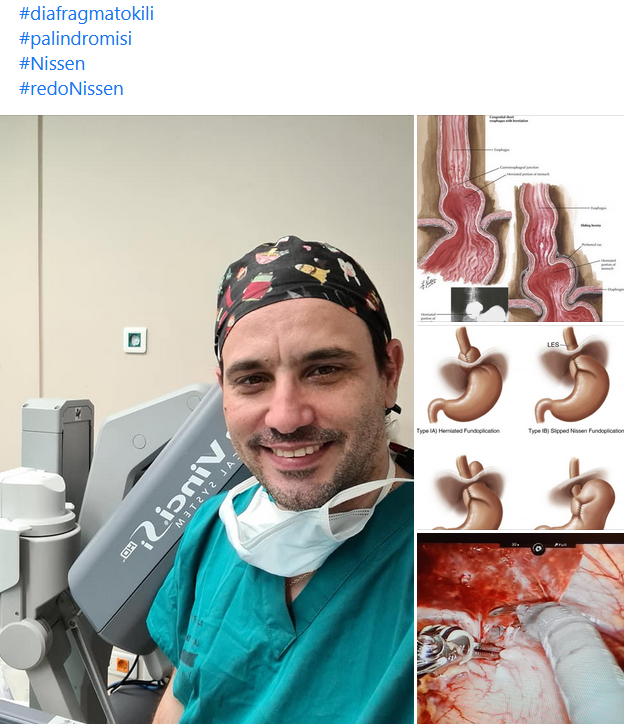 ROBOTIC REDO CASE OF HIATAL HERNIA, SUCCESFULLY TREATED IN ATHENS MEDICAL CENTER!
A hybrid robotic redo case of hiatal hernia was performed in a 51-year-old woman last week at the Athens Medical Center with absolute success. Patient had a history of two previous operations in another country, resulting in severe epigastric and chest pains and persistent chronic cough, especially during the night. The woman approached our team almost desperate, as her choices were now limited to few medications for both her reflux and cough, that had been attributed to possible asthma.
Surgeon Dr. Savvas C. Hirides and his team used robotic technology, through 4 micro-incisions, to divide the solid adhesions from the previous procedures, to repair recurrence of the hiatal hernia (the old wrap and part of the stomach were fixed to the chest) and restore normal anatomy of the lower esophageal area. Operation lasted 6 hours, patient followed a smooth recovery process and was discharged three days later without any discomfort. Today, on the 8th postoperative day, when she and her husband visited us, they say they are happy that there are no more symptoms of relapse, and that they have completely got rid of the chronic cough.
--------------------------------------
January 14, 2021, Athens Medical School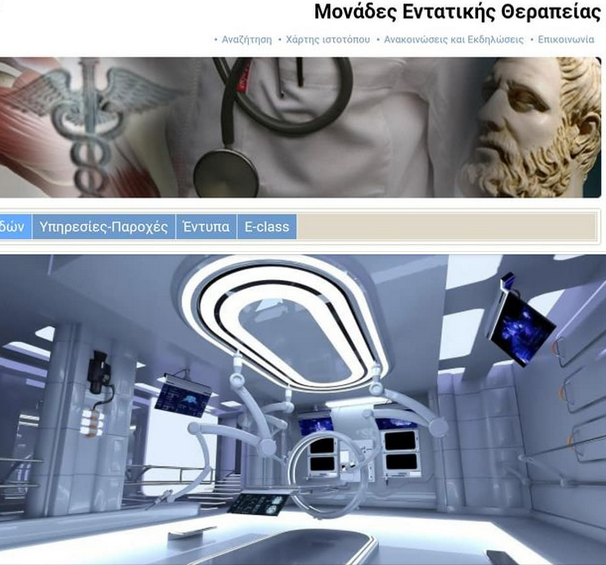 Honorary Invitation from the Medical School of the University of Athens
Once again, this year surgeon Dr. S.C. Hirides delivers the course "New Technologies in Intensive Care and Emergency Nursing" of the MPS "Intensive Care Units"
During his speech to the postgraduate students, Dr. Chiridis presented cases from his long experience in Advanced Laparoscopic and Robotic Surgery and analyzed the use of new technologies in the operating room with emphasis on Intraoperative Navigation with Augmented Reality, the Artificial Intelligence (AI) in the near future (Digital Surgery 4.0).
(Page automatically translated from Greek)